F# Charting: Library for Data Visualization
The F# Charting library implements charting suitable for use from F# scripting. Once you load the library as documented in referencing the library document, you can use the members of the Chart type to easily build charts. The following example creates a candlestick chart for a time series and sets the range of the Y axis:
1: 




Chart

.

Candlestick

(

priceSeries

)

.

WithYAxis

(

Max

 

=

 

29.0

, 

Min

 

=

 

25.0

)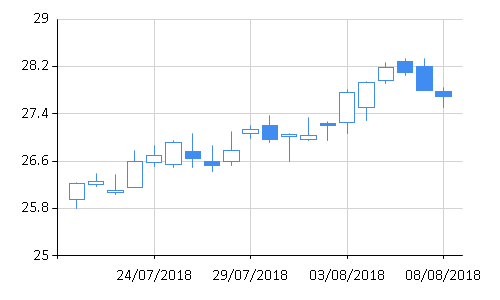 The library provides a composable API for creating charts. For example, you can use the Chart.Combine function to create a chart consisting of multiple line charts. The following example creates a single area showing sample income, expenses and profit in a single chart:
1: 




2: 




3: 




4: 




Chart

.

Combine

(
   [ 

Chart

.

Line

(

expectedIncome

,

Name

=

"Income"

)
     

Chart

.

Line

(

expectedExpenses

,

Name

=

"Expenses"

) 
     

Chart

.

Line

(

computedProfit

,

Name

=

"Profit"

) ])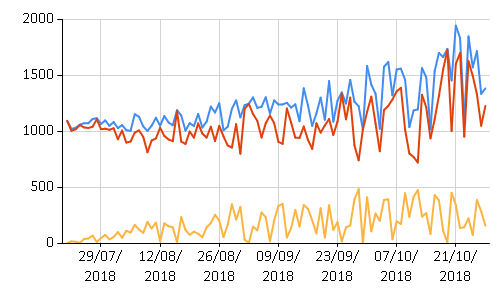 How to get F# Charting
F# Charting features
Cross-platform 2D charting and support for pseudo-3D charts on .NET.
Many cross-platform chart types: Area, Bar, Bubble, Column, Line, Point and more.
Create charts directly from F# data such as lists and tuples.
Use either fluent or pipelined chart specifications.
Create updating 'LiveChart' charts from F# or Rx observables.
Can be used in conjunction with the FSharp.Data library.
Many extra chart types (Windows-only): BoxPlot, Candlestick, Doughnut, ErrorBar, FastLine, FastPoint, Funnel, Kagi and more.
Not all features are supported in the FSharp.Charting.Gtk version of the library. See INCOMPLETE_API in the implementation. Contributions to compelte the features are welcome.
Approach, history and future
This library is a successor to FSharpChart. The last version of FSharpChart was version 0.61.
F# Charting uses simple, declarative chart specifications. On Windows, F# Charting is implemented using the Data Visualization charting controls available on Windows in .NET 4.x. On OSX, F# Charting is implemented using the OxyPlot.GtkSharp charting library.
F# Charting is designed so that the same charting specifications can be supported when using different charting implementations.
Contributing
The project is hosted on GitHub where you can report issues, fork the project and submit pull requests. If you're adding new public API, please also contribute examples that can be turned into a documentation.
If you want to discuss an issue or feature that you want to add the to the library, then you can submit an issue or feature request via Github or you can send an email to the F# open source mailing list.

For more information about the library architecture, organization and more see the contributing page.

The documentation is automatically generated from *.fsx files in the docs/content folder. If you find a typo, please submit a pull request!
Library license
The library is available under the MIT licence. For more information see the License file in the GitHub repository. In summary, this means that you can use the library for commercial purposes, fork it, modify it as you wish.
Multiple items
namespace FSharp

--------------------
namespace Microsoft.FSharp
namespace FSharp.Charting
namespace System
val prices : (float * float * float * float) list

Full name: Index.prices
val priceSeries : obj

Full name: Index.priceSeries
Multiple items
module List

from Microsoft.FSharp.Collections

--------------------
Multiple items
type DateTime =
  struct
    new : ticks:int64 -> DateTime + 10 overloads
    member Add : value:TimeSpan -> DateTime
    member AddDays : value:float -> DateTime
    member AddHours : value:float -> DateTime
    member AddMilliseconds : value:float -> DateTime
    member AddMinutes : value:float -> DateTime
    member AddMonths : months:int -> DateTime
    member AddSeconds : value:float -> DateTime
    member AddTicks : value:int64 -> DateTime
    member AddYears : value:int -> DateTime
    ...
  end

Full name: System.DateTime

--------------------
DateTime()
   (+0 other overloads)
DateTime(ticks: int64) : unit
   (+0 other overloads)
DateTime(ticks: int64, kind: DateTimeKind) : unit
   (+0 other overloads)
DateTime(year: int, month: int, day: int) : unit
   (+0 other overloads)
DateTime(year: int, month: int, day: int, calendar: Globalization.Calendar) : unit
   (+0 other overloads)
DateTime(year: int, month: int, day: int, hour: int, minute: int, second: int) : unit
   (+0 other overloads)
DateTime(year: int, month: int, day: int, hour: int, minute: int, second: int, kind: DateTimeKind) : unit
   (+0 other overloads)
DateTime(year: int, month: int, day: int, hour: int, minute: int, second: int, calendar: Globalization.Calendar) : unit
   (+0 other overloads)
DateTime(year: int, month: int, day: int, hour: int, minute: int, second: int, millisecond: int) : unit
   (+0 other overloads)
DateTime(year: int, month: int, day: int, hour: int, minute: int, second: int, millisecond: int, kind: DateTimeKind) : unit
   (+0 other overloads)
property DateTime.Today: DateTime
DateTime.AddDays(value: float) : DateTime
Multiple items
val float : value:'T -> float (requires member op_Explicit)

Full name: Microsoft.FSharp.Core.Operators.float

--------------------
type float = Double

Full name: Microsoft.FSharp.Core.float

--------------------
type float<'Measure> = float

Full name: Microsoft.FSharp.Core.float<_>
val futureDate : numDays:int -> DateTime

Full name: Index.futureDate
val numDays : int
val rnd : Random

Full name: Index.rnd
Multiple items
type Random =
  new : unit -> Random + 1 overload
  member Next : unit -> int + 2 overloads
  member NextBytes : buffer:byte[] -> unit
  member NextDouble : unit -> float

Full name: System.Random

--------------------
Random() : unit
Random(Seed: int) : unit
val rand : unit -> float

Full name: Index.rand
Random.NextDouble() : float
val expectedIncome : (DateTime * float) list

Full name: Index.expectedIncome
val x : int
val exp : value:'T -> 'T (requires member Exp)

Full name: Microsoft.FSharp.Core.Operators.exp
val expectedExpenses : (DateTime * float) list

Full name: Index.expectedExpenses
val sin : value:'T -> 'T (requires member Sin)

Full name: Microsoft.FSharp.Core.Operators.sin
val computedProfit : obj

Full name: Index.computedProfit
type Chart =
  static member Area : data:seq<#value> * ?Name:string * ?Title:string * ?Labels:#seq<string> * ?Color:Color * ?XTitle:string * ?YTitle:string -> GenericChart
  static member Area : data:seq<#key * #value> * ?Name:string * ?Title:string * ?Labels:#seq<string> * ?Color:Color * ?XTitle:string * ?YTitle:string -> GenericChart
  static member Bar : data:seq<#value> * ?Name:string * ?Title:string * ?Labels:#seq<string> * ?Color:Color * ?XTitle:string * ?YTitle:string -> GenericChart
  static member Bar : data:seq<#key * #value> * ?Name:string * ?Title:string * ?Labels:#seq<string> * ?Color:Color * ?XTitle:string * ?YTitle:string -> GenericChart
  static member BoxPlotFromData : data:seq<#key * #seq<'a2>> * ?Name:string * ?Title:string * ?Color:Color * ?XTitle:string * ?YTitle:string * ?Percentile:int * ?ShowAverage:bool * ?ShowMedian:bool * ?ShowUnusualValues:bool * ?WhiskerPercentile:int -> GenericChart (requires 'a2 :> value)
  static member BoxPlotFromStatistics : data:seq<#key * #value * #value * #value * #value * #value * #value> * ?Name:string * ?Title:string * ?Labels:#seq<string> * ?Color:Color * ?XTitle:string * ?YTitle:string * ?Percentile:int * ?ShowAverage:bool * ?ShowMedian:bool * ?ShowUnusualValues:bool * ?WhiskerPercentile:int -> GenericChart
  static member Bubble : data:seq<#value * #value> * ?Name:string * ?Title:string * ?Labels:#seq<string> * ?Color:Color * ?XTitle:string * ?YTitle:string * ?BubbleMaxSize:int * ?BubbleMinSize:int * ?BubbleScaleMax:float * ?BubbleScaleMin:float * ?UseSizeForLabel:bool -> GenericChart
  static member Bubble : data:seq<#key * #value * #value> * ?Name:string * ?Title:string * ?Labels:#seq<string> * ?Color:Color * ?XTitle:string * ?YTitle:string * ?BubbleMaxSize:int * ?BubbleMinSize:int * ?BubbleScaleMax:float * ?BubbleScaleMin:float * ?UseSizeForLabel:bool -> GenericChart
  static member Candlestick : data:seq<#value * #value * #value * #value> * ?Name:string * ?Title:string * ?Labels:#seq<string> * ?Color:Color * ?XTitle:string * ?YTitle:string -> CandlestickChart
  static member Candlestick : data:seq<#key * #value * #value * #value * #value> * ?Name:string * ?Title:string * ?Labels:#seq<string> * ?Color:Color * ?XTitle:string * ?YTitle:string -> CandlestickChart
  ...

Full name: FSharp.Charting.Chart
static member Chart.Candlestick : data:seq<#value * #value * #value * #value> * ?Name:string * ?Title:string * ?Labels:#seq<string> * ?Color:Drawing.Color * ?XTitle:string * ?YTitle:string -> ChartTypes.CandlestickChart
static member Chart.Candlestick : data:seq<#key * #value * #value * #value * #value> * ?Name:string * ?Title:string * ?Labels:#seq<string> * ?Color:Drawing.Color * ?XTitle:string * ?YTitle:string -> ChartTypes.CandlestickChart
static member Chart.Combine : charts:seq<ChartTypes.GenericChart> -> ChartTypes.GenericChart
static member Chart.Line : data:seq<#value> * ?Name:string * ?Title:string * ?Labels:#seq<string> * ?Color:Drawing.Color * ?XTitle:string * ?YTitle:string -> ChartTypes.GenericChart
static member Chart.Line : data:seq<#key * #value> * ?Name:string * ?Title:string * ?Labels:#seq<string> * ?Color:Drawing.Color * ?XTitle:string * ?YTitle:string -> ChartTypes.GenericChart